Choosing Which Non-Profit to Support
Oct 04, 2020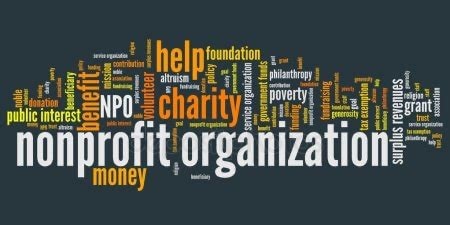 Where does your money go?
Do you donate to charities or non-profits? If so, do you prefer small community-based charities or large, powerful national ones? Do you know which ones effectively support their cause and which ones waste the most money?
Maybe you've noticed here and on my Insta/FB feed that a percentage of all my sales go to one of four environmental non-profits. Recently, a friend asked me how I chose those non-profits. In this blog, I'll explain how I did that because it's important to research where the money goes when giving it to a charity. Feeling confident that the folks on the receiving end of charitable donations are fiscally responsible and are helping the cause is essential.
Revenue
For the sake of this blog, I've created an entirely hypothetical non-profit. I'm going to call it NPX.
First, let's look at where the revenue for NPX comes from – how do they get their money? Many charities rely heavily on private donations and membership fees. Some apply for and receive federal/state grants – which means your tax dollars already support them to some extent. Typically, smaller non-profits, like your local choir group, will rely more heavily on state or federal funding than your larger national non-profits, like the Sierra Club.
Let's say NPX brings in $10M a year between donations and federal grants. That's a nice round, manageable number.
Expenses
There are three main categories under a charity's expenses that require attention. The first is executive salaries. If the CEO of NPX is making $1M a year, it means one salary is 10% of NPX's revenue. For every donated dollar, 10 cents of it is going directly into the CEO's bank account. Now I don't begrudge anyone from earning an honest living for hard work. But if the CEO is making $1M in salary, and NPX only generates $10M a year, what else do you think is charged under 'expenses'? Not even the Red Cross CEO makes a $1M annual salary – and that's a billion-dollar-plus non-profit.
The next expense is fundraising. For every dollar a non-profit brings in, how much is being spent on fundraising campaigns? Again, say for simplicity's sake, NPX pays 25 cents for every dollar it collects through fundraising (advertising, events, etc.). That doesn't seem so horrible. But here's how that math breaks down so far:
You donate one dollar.
The CEO's salary is 10 cents.
The fundraisers take another 25 cents.
The dollar you donated is now worth 65 cents towards the programs (cause) you want to support.
Finally, there are administrative costs. Admin expenses can include office space, equipment, utilities, staff salaries, travel, etc. It's typically broken down on a charity's financial report. Say administrative costs for NPX are 30%. So, after the CEO's salary (10 cents), fundraising (25 cents), and administrative expenses (30 cents), your dollar is now worth 35 cents to the programs you want to support. Does it feel like the NP isn't fiscally responsible? Or that someone might be using it as a shell company for a cozy lifestyle? While that's not the norm, and government regulations are getting stricter every year, it can happen.
A healthy non-profit can typically operate using around 10-25% of its revenue (using only 10-25 cents per dollar generated). It relies on volunteers to help with administrative operations, has lean (not fancy) offices, and is fiscally responsible.
Do Some Research!
NPX and the above numbers are entirely hypothetical to make a point. If you're going to donate money to a charity, you might want to consider doing some research! Just because a non-profit appears to be sincere and responsible, it doesn't mean they are. In addition to having a mission that resonates with you, looking at fiscal accountability needs to be a part of deciding which charity to support. Don't you want as much of your dollar to go towards programming as possible?
So how can you easily research a charity that you want to support? Most truly transparent non-profits have recent, audited fiscal reports accessible on their website. And sometimes, if the tax documents aren't there, you can call or email the organization, and they will send you a link to follow or a .pdf of their current financials. There's also a great website called Charity Navigator where you can type in the name of the charity you're researching to find the data.
If you're researching a charity and not finding any of this information available, my recommendation is to find another charity. By law, and in the spirit of what non-profits stand for, transparency is key to their operations. If an organization is stonewalling you, give your money to someone who'll value your support more and is open with their records.